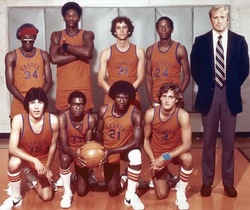 The White Shadow is a cult classic here in America, a touchstone for men (then boys) alive in the late 1970s. The television show about a white former NBA player whose career was cut short by a knee injury so he coached at a predominantly African-American high school was the Friday Night Lights of its day. Groundbreaking in some ways, glamorizing a sport in others.
Not just here, but in Turkey, according to Pete Thamel of the New York Times.
Turkey's rapid rise as a basketball power can be traced, in part, to "The White Shadow," whose 54 episodes appeared on black-and-white TV here from 1980 to 1982.

"It made people aware of basketball in Turkey," said Alper Yilmaz, a former national team player who works in the front office of Efes Pilsen, a club in Istanbul that has won 13 Turkish League titles since its founding in 1976.

"There was already basketball in Turkey," Yilmaz added, "but after that show, everyone started playing."
Another American cultural export takes hold thanks to television. You're welcome, world.