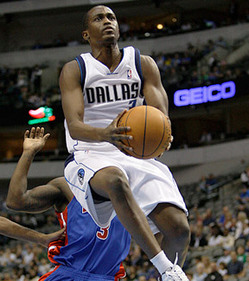 Rodrigue Beaubois' broken foot put a huge damper on the French national team's chances at the FIBA World Championships, but with an already limited team (Tony Parker, Mickael Pietrus, Ronny Turiaf, and Joakim Noah were all notable NBA no-gos), France would have faced a long and trying road with or without Beaubois.
Now, with France eliminated from contention, we turn to how that injury is likely to affect the Mavericks in the coming season, and unfortunately, Beaubois' timetable for return is no more concrete today than it was the day of his surgery.
However, we do know this: Beaubois is no longer crutching his way around the Mavs facilities, so he is progressing somewhat, and is keeping his eye on Dallas' regular season opener. From Eddie Sefko of the Dallas Morning News:
Roddy Beaubois was doing his best Lance Armstrong on Thursday in the Mavericks' locker room, pedaling the stationary bike up and down imaginary hills. That and weightlifting is about all he can do. He still wears a protective walking boot on his left foot, which needed a pin inserted in it to stabilize a broken bone near the outside of the foot suffered in early August. At least he's not on crutches anymore.

…"I was feeling a little pain for a couple days, but they X-rayed it and didn't see anything," Beaubois said. "I couldn't feel it every time, so I thought maybe it's nothing. Sometimes I'd feel it for a couple of minutes. But I'd come back and it would be good. Then, one day, whoa, it just broke. When it broke, I knew it. I knew it was something bad." Beaubois said he's hopeful to be ready to go by the start of the regular season on Oct. 27.
Beaubois' role for the coming season hadn't been set in stone before he broke his foot, and now it's possibly even more ambiguous. The Mavs were considering starting Beaubois alongside Jason Kidd next season, but If Rick Carlisle is still looking for reasons not to play Beaubois serious minutes (in fairness to Carlisle, that doesn't seem to be the case), this could be as good of a justification as any.
Either way, without the benefit of training camp or preseason reps, expect Beaubois to come out of the gate rusty. He wasn't in the best of shape even during his rookie season (an odd thing to say about a lightning quick guard, I know), and being off the court for so long won't help.
There's no reason to believe that Beaubois' sophomore campaign won't be a rousing success overall, especially if given the playing time and opportunities he deserves. Expect delays on his takeoff next season nonetheless.