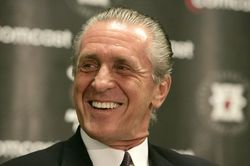 Pat Riley is done biting his tongue.
He's spent the last two months listening to people criticize his players and their wanting to play on one team and he's had it. Not as much with the media and bloggers — although I have yet to receive a bouquet of roses — but with the people in the league.
And in an animated interview with Ira Winderman of the Sun Sentinel, Riley fired back. Starting with Charles Barkley, who called LeBron's one-hour The Decision special a "punk move."
"Charles Barkley, to me, went way over the top," Riley said. "I think Charles is probably the only guy in the league that can get away with what he gets away with.

"Calling these guys a bunch of punks is a personal attack. LeBron isn't that. Dwyane is not, and neither is Chris."
Then there was former Heat coach Stan Van Gundy — the guy Riley kicked to the curb to pilot the Shaq and Wade train — who wondered why name players wanted to be Wade's "lap dog."
"Stan's out there making comments about Chris Bosh being a lap dog to Dwyane Wade," Riley said. "I don't know what happened to some of these guys along the way."
Riley — like a lot of us, really — have kind of reached the end of the talking point of the summer and want to get to the playing games point of the summer. He knows his team has high expectations and has been labeled the enemy in a lot of quarters, and he's fine with that.
"I don't think there's anything wrong in having the great anticipation. And I think that's one of the keys to developing tremendous enthusiasm. The scarlet letter has been placed on their back for some reason. These guys are going to have to develop a resolve second to none maybe in the history of the NBA…

"Now we've got to go out on the court and prove it," he said. "I don't look back in regret at what anybody says about us."