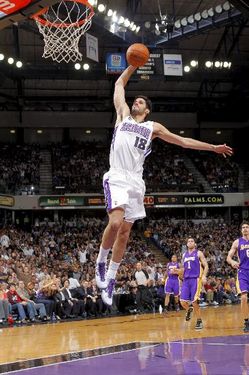 Omri Casspi is home in his native Israel right now, celebrating Rosh Hashana, the Jewish New Year, and preparing for another season in the N BA. His second, after an impressive rookie campaign with the up-and-coming Sacramento Kings.
But all anyone is talking about right now is the news that someone is Sacramento painted a swastika over a mural of Casspi in the city. His reaction, like his game, was mature, and was gotten by Sam Amick of FanHouse.
"It's all over the news here," Casspi said. "I'm not shocked but I'm kind of hurt, you know. … It's just crazy that it's 2010 and still there are people who are racist and who hate. That's the only thing that hurts and is a big shock….

"In Israel, obviously there's not something like that," he said. "I've been in Sacramento and all over the NBA and never had anything close to that, never had anything racist happen. Everybody has treated me warm and kind and been unbelievably great to me. It's the first time for me to handle that kind of situation and I'm sorry I have to handle it at all."
Casspi returns to Sacramento next week where he has to be considered the frontrunner for open small forward starting spot. Casspi said in the report that he has put on about 15 pounds of muscle this summer — last season fatigue was cited as a reason his lost the starting three spot near the end of the year.
This season he believes nothing will slow him down. Not the rookie wall, not racist idiots.