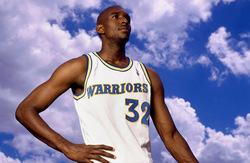 The former #1 pick appeared in 64 games for the Atlanta Hawks last season, and averaged 3.0 points and 2.5 rebounds per game in 9.3 minutes per game. 
The 35-year old Smith never lived up to his #1 overall pick billing, but he's a solid rebounder and mid-range shooter, a savvy veteran, and a great locker-room presence. 
Smith has previously played for the Warriors, 76ers, Timberwolves, Pistons, Bucks, Nuggets, Bulls, Cavaliers, Thunder, and Hawks.