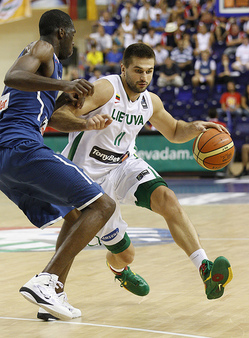 He is scoring 19.1 points a game on 60.4 percent shooting, is getting to the line, has shown everyone what he is capable of on the World Stage and is the unquestioned leader of a team in the FIBA World Championships.
Kevin Durant? No, although their statistics are nearly identical.
It's Linas Kleiza. The former Nugget and soon to be Raptor who is leading Lithuania up against the Americans on Saturday.
Kleiza was a nice backup guy for the Nuggets, but some who watched him then and now have a question: Who is this guy with the well rounded game and is putting up Durant-like numbers in Turkey?
Player development guru David Thorpe knows, and he isn't surprised. Thorpe is the executive director of the Pro Training Center (as well as ESPN analyst) who worked with Kleiza a few years back and said he always had this in him.
"In reality what we're seeing now is just the natural evolution of a guy asked to play the three but was only a guy allowed to shoot threes and dunk in [the Denver] system," Thorpe said. "He was a much more fluid player than he was allowed to show."
Denver had Carmelo Anthony and for much of Kleiza's time Allen Iverson — they had dynamic scorers, better scorers than Kleiza. The result of that is what happened to him happens to a lot of players Thorpe said — they get put in roles that work for the team but do not show off or exploit all a player can do. There are plenty of players collecting NBA paycheck and living the NBA lifestyle in the same boat.
But Kleiza's answer was different — he broke the mold and went to play for Olympiakos, the Greek powerhouse (along side Josh Childress, now of the Suns). There he got to both show off the variety of his game and gain confidence that he can be a leader and top scorer — he was one of the leading scorers in EuroLeague.
That is what he is bringing back to Toronto.
"I've always thought he was a starting level three," Thorpe said. "He's very explosive, very rugged and though a guy who can race the floor… He's your classic mismatch nightmare because he'll just pulverize smaller players with his strength but he can also hit the three."
China struggled to find a matchup for him in the round of 16 at the World Championships. They didn't want to wear out Yi Jianlian on him, so they went with a smaller player and Klieza just backed him down and hit little 8-footers over him. If you go bigger he is too quick and can get open on cuts and in transition, plus he can space the floor.
Team USA may be better suited than anyone to have answers for Kleiza, Thorpe said. Both Kevin Durant and Andre Iguodala are quick enough to stay with him on the perimeter but their strength and length will keep Kleiza from getting easy looks around the basket.
But it will not be easy, because if there is one thing Kleiza brings its toughness. He will scrap for what he wants.
Most teams that take on Toronto will face the same matchup challenges that the world has faced in recent weeks, Thorpe said. He added he thinks Kleiza could be the Raptors leading scorer next season or should at least be in the mix.
"He's a very good three point shooter who can finish around the rim, has great hands and can take the punishment…" Thorpe said. "Not a lot of guys who can do all that."