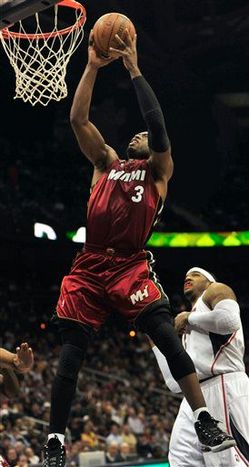 Mario Chalmers may be the official Miami Heat starting point guard come Oct. 26, but as we've said before his role will not be the same as Rajon Rondo's or Deron Williams or most other point guards.
That's because both LeBron James and Dwyane Wade like to create with the ball in their hands. They are better at it than just about anyone. So you give them the rock. Which got Miami thinking, according to a tweet from the Sun Sentinel's Ira Winderman…
Pat Riley says Chalmers likely ready for camp, but not Butler. Hints strongly at casting Wade or LeBron at point guard.
It's an option: Wade at the one, Mike Miller at the two, LeBron at the three, Chris Bosh and Joel Anthony starting up front. A pretty versatile starting lineup, one that complements each other in a lot of ways.
Of course, there is the defensive question — who guards the small, quick point guards that are a part of many teams now? Wade is a very good perimeter defender but in this hand check-free league he will struggle some with — and more importantly risk foul trouble — guarding the Rondo, Darren Collison, Jameer Nelson, Raymond Felton type guys (and that's just a few from the Eastern Conference). It comes back to the same reality for Miami whoever starts at the point — in today's NBA you need someone to protect the rim inside, and Anthony or others need to step up into that role.
Miami's situation may be a matchup thing, while the starters may not change the rotations and who finishes games could change depending on what the other team throws at them.
Defense is going to be the key for the Heat, and we've started taking extensive looks at it already.
One other tweet from Winderman on what will be another media topic with the Heat regardless of the reality on the ground — the job security of Erik Spoelstra.
As for Spoelstra, Riley insists there are no coaching issues.  "I think you've got to let the coach coach." Says no "helicopter" presence.