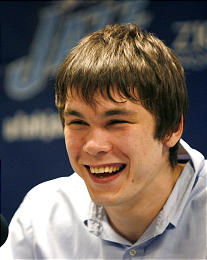 Ukranian big man, Utah Jazz playoff stop-gap, and impeccable jokester Kyrylo Fesenko is still job-hunting, and hasn't yet committed to a return with the Jazz next season. Utah has already extended a qualifying offer to Kyrylo, a restricted free agent, that would pay him around $1.1 million next season before becoming an unrestricted free agent in the summer of 2011. However, according to HoopsWorld, Fesenko is entertaining the idea of signing with a European team for a more lucrative contract, even if he's leaning toward re-signing with the Jazz.
I know. Late off-season rumors.
This may seem like a bit much for a player barely on the NBA radar until an injury to Mehmet Okur demanded it. After all, for all of the talk about Fesenko's play in the post-season, this is a guy who posted a playoff PER of 3.0. Three. Mark Madsen danced circles around that.
Still, Fes played reasonably well considering the circumstances, and provided height and a pinch of defense for a Jazz team in a jam. Plus, he once vowed to become a more serious player by limiting himself to five jokes a day. This is a guy that we want in the NBA, even if he's not registering regular playing time behind Paul Millsap, Al Jefferson, and Mehmet Okur.
The Jazz are optimistic for Fesenko's return, according to Brian T. Smith of the Salt Lake Tribune, so that's something. He needs an NBA gig because we need him, and, if you really want to get into it, there are some legitimate basketball justifications available, too. He's familiar with Jerry Sloan's flex offense, which isn't something that can be taught to a free agent big overnight. Offenses with that kind of complexity just aren't made for rental big men, so it makes sense for Utah to hold onto Fesenko, who is a perfectly decent reserve.
For now, that's all Fesenko is. He hasn't shown the aptitude to evolve beyond that role as of yet, and I'm not sure he ever will. Nothing wrong with that. Nothing wrong with being a second or third center in the best basketball league on the planet. Nothing at all. Unless Fesenko really does want to chase the money and minutes a European team could offer, which would be a tragedy for us here in the States.
We've already had to live in a world with five or fewer Fes jokes a day. Can you imagine the NBA world with none at all?