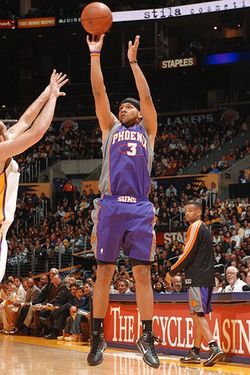 Jared Dudley just rocks.
Guy is smart (on and off the court), he cares, he's funny, one of the best guys to talk to in the league.
Oh, and he has some big plans for this season, as he told Paul Coro of the Arizona Republic.
Now that his jersey is for sale in the Team Shop, Dudley plans on buying them and giving them away to fans on twitter.
He wants to give away Dudley bobbleheads to fans and is willing to pay for them to have them made.
Inspired by slam dunk contest "10" cards, Dudley wants to pay for the making of cards that have a photo of him flashing his 3-point hand signs after he makes a 3 so fans can hold them up when he makes one.
He wants to have a weekly one-hour radio show on a Valley hip-hop station, guaranteeing Steve Nash, Larry Fitzgerald, Amar'e Stoudemire and Steve Kerr as guests.
Oh, yea, he wants to beast on the court so he can get a new deal for next season, preferably in the Valley of the Sun. This year is the last one of his old deal and he says he likes in Phoenix and wants to stay. With the changes in the Suns roster Dudley may be able to carve out a larger role. Larger role, more money. But it also could mean offers from other teams, so Dudley may have choices to make — this summer was evidence that the Suns won't just throw out more money to keep a player, if another team offers a lot more the Suns will wish him well on his way out the door.
But I'm sure Dudley would get to keep his bobbleheads. He paid for them after all.