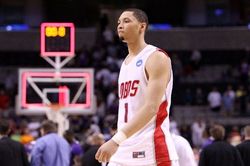 Darington Hobson is a crafty player — not an explosive athlete by NBA standards, but a guy who just makes the right pass, the right decision. Kind of a poor man's James Harden.
It's why the Bucks drafted him in the second round. It's why they are disappointed that a lingering groin issue that kept him out of Summer League now appears to be keeping him out of at least training camp and maybe much of the season, according to the Journal-Times.
Hobson's injury hasn't improved since [Summer League] and now he, along with Bucks officials, believe Hobson's ailments could be more severe and related to his hips.

That is why the 6-foot-7, 210-pound Hobson, who is capable of playing multiple positions, will be meeting with a hip specialist next week in Milwaukee.
The glass-half-full people in the Bucks front office are hoping he just misses training camp. But the pessimists fear it could be much of the season. They'll know more after the doctor.
Hobson just signed a guaranteed contract with the Bucks for this season. The team is committed to him.