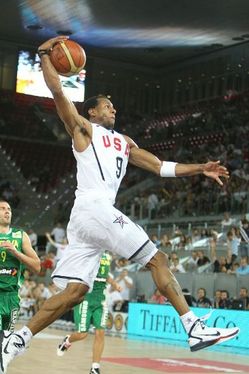 Ah, the joys of language.
A Russian player accused the USA's Rudy Gay of calling them… well, Chris Sheridan from ESPN has the story.
"He say in Russian a bad word. I don't know how he know this. I won't even translate it. It's bad," said Russian forward Andrey Vorontsevich, who got yelled at by Iguodala after being a little too physical with Lamar Odom.

"All I said was, 'watch it, watch it,'" Iguodala said, bewildered. "I don't speak any Russian."

Apparently (according to bilingual Russian journalist Vladimir Gomelsky of NTV+, the Russian all-sports cable network), if you say, "watch it, watch it" fast enough, it can be misconstrued as the Russian euphemism for a female canine.
Technically, the Russians were the USA's female dogs. Still, not nice to remind them of it.
Now for some lessons in insulting people in Lithuanian…