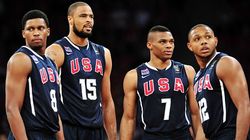 File this one under "conundrum" when it comes to USA Basketball and those at the back end of the Mike Krzyzewski's roster at the World Championships.
Should the United States win its final two games this weekend, it punches a ticket to the 2012 Olympics, with only the gold-medalists earning an automatic bid.
That would make life easy for Dwyane Wade, LeBron James, Carmelo Anthony, Kobe Bryant, Dwight Howard, Chris Paul, Deron Williams and Chris Bosh to parachute in to London for a couple of weeks two years from now and work toward another Games gold.
But should the United States lose either in the semifinals or championship game in Istanbul this weekend, it would then mandate regional Olympic qualifying next summer in Argentina.
And that might be a burden (lockout permitting) the league's prime stars, especially those planning to play deep into the NBA playoffs, might not choose to accept, essentially 24 months of round-the-clock basketball.
Ah, not-so-sweet irony.
But offering their "A" game this weekend, Russell Westbrook, Rudy Gay, Andre Iguodala, Lamar Odom and Eric Gordon could be hastening their own Olympic demise.
We've seen it before on the Olympic platform, those in successful qualifying heats pushed aside when it comes to the championship glory of the race for the medals.
Of course, Jerry Colangelo's master plan never was supposed to offer this grim reality. To play in the Olympics meant playing in any qualifying round needed, similar to the model leading up to the 2008 Beijing Games.
With a U.S. loss over the weekend, the NBA's leading men will have to decide whether to participate in Olympic qualifying next summer. That could lead more than a few to declare their retirement from international play, what with NBA championships now Kobe's defining measurement, with the Heat's Big Three pledged to make mid-June basketball a South Florida staple, with Paul and Carmelo facing the same types of contract concerns that kept Wade, LeBron and Bosh away this summer.
But with a pair of U.S. victories this weekend, London becomes a more manageable exercise for the NBA's elite, able to push aside those who took their spots in basketball's preliminary relays, so to speak.
Sunday in Turkey, gold will go to the victors.
But for several, if not most, members of this current U.S. team, outside of, say, Kevin Durant, Derrick Rose, and, perhaps, Chauncey Billups, those medals also could wind up feeling like consolation prizes, accompanied not with tickets to London, but rather merely with heartfelt thanks.
Ira Winderman writes regularly for NBCSports.com and covers the Heat and the NBA for the South Florida Sun-Sentinel. You can follow him on Twitter at http://twitter.com/IraHeatBeat.