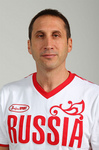 Hey, we've got some almost actual intrigue for today's Russia vs. USA game at the world championships.
Russia's coach Mike Blatt — a guy born in the United States now living in Israel and coaching the Russians — and Mike Krzyzewski are in a little war of words.
First, Blatt said that the 1972 Olympic gold medal game — a controversial ending where the Russians got three attempts to redo a final play — was indeed "fair." Coach K responded that of course he said that, he's Russian.
So today Adrian Wojnarowski of Yahoo got the response from Blatt.
"I think Mike's overlooked the fact that I'm every bit as much of an American as him," Blatt told Yahoo! Sports at his team's hotel. "In America, we're taught that freedom of speech and freedom of thought allow us to try and view things objectively, form our own opinions and express them.

"The ability to do that without risking it being called an act of unpatriotism may be lost upon him."
This is what passes for trash talk between 50+ white guys. This is their dozens.
Well Thursday is the 38th anniversary of that fateful gold medal game and the game at the World Championships between the USA and Russia by players not even born yet when the first game happened will certainly settle everything. Right?