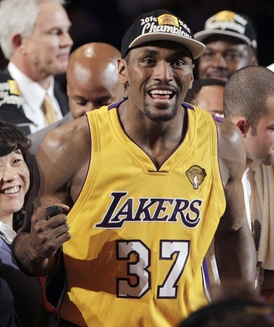 Ron Artest does not do things half way. Not on the court — if he is after you defensively he is Pit Bull relentless. Not off the court, which the many tales of his youthful imbibing can attest to.
And not with charity work.
We told you recently Artest was appearing with congresswoman Grace F. Napolitanoto to promote her Mental Health in Schools Act Well that was not just lip service, and he is not just putting his money where his mouth is.
He is putting his championship ring there.
Artest will set up a specialized auction where he will give his ring to the winner. Artest will never wear it, there will be a ceremony the night he gets his ring and he will turn it over to the high bidder, as he told Scott Howard Cooper of NBA.com.
"You work so hard to get a ring, and now you have a chance to help more people than just yourself, instead of just satisfying yourself," he said. "What's better than that? For me, this is very important…"

"For five years, I've been wanting to do this psychology-type of assistance, but I never had an outlet where I could make a big impact, as far as where the most people could see it. It was always like maybe 10 or 20 people seeing what we were doing. The idea came from when I was in Sacramento. I had marriage counseling. I also had anger management. It just made me think that counseling is not something generic. …
As we said before, it may make an easy joke but this is a great cause for Artest. Remember he thanked his psychologist from the podium after Game 7, and therapy seemed to help him come to terms with his demons. He is more mature now (well, except when cited for driving around lately).
People will listen. Maybe somebody who saw a stigma with therapy will seek some help they need. Maybe the money raised will help bring therapy to a school and to a child that otherwise would not have had that outlet.
Not many people would make the level of sacrifice that Artest is willing to. But that's Artest, when he believes in something he is all in.