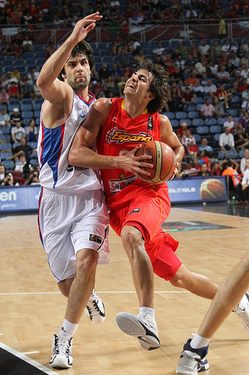 Ricky Rubio has reached a legendary status. With reason — the guy was on the floor in the key moments of an Olympic gold medal game at age 19, or just check out his mix tapes. He has mad game.
He's 19 and will spend this season playing for Barcelona, then decide whether to come to Minnesota Timberwolves next year (don't be shocked if he stays in Europe one more year with a lockout looming). He's seen as future premiere point guard, right there along with John Wall and others.
But we got a good look at him against quality competition in the World Championships and… he was a mixed bag.
He was a floor general and showed that great feel for the game that is just instinctual with him. There were spectacular passes. There was a comfort on the big stage that is just uncanny for someone of this age.
But his shooting remains his Achilles heel. He shot 27.5 percent for the tournament and that includes just 2 of 15 from three (13.3 percent). He was able to create his own shot, but whether with the jumper or at the rim, he struggled to finish.
Because of that, well, the brilliant Jay Aych said it best at The Painted Area — against Serbia in an elimination game, Rubio failed to really impact it. He didn't play poorly, but for a guy of his skills we expect more.
Can he play in the NBA? Yes, and right now. He could walk in tomorrow and fit in, especially on a team with an up-tempo style. (Why Minnesota wants him to run the triangle offense, which is not terribly point guard friendly, is another question entirely.)
He's 19. We can't emphasize that enough. He has plenty of time to learn to shoot — it's a skill that can be taught, his feel for the game cannot. But until he learns to shoot, to finish those plays himself, his impact will be limited. Wherever he plays.