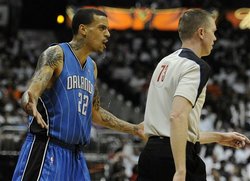 Not long after being released from jail, after he was booked on charges of domestic abuse, Matt Barnes tweeted not to believe what you read.
Today Barnes' fiancé — Gloria Govan — denied there was any abuse through the couple's shared publicist, in a statement to the Sacramento Bee.
"Any accusation of domestic violence are false. My fiancé, Matt Barnes, has never physically abused me or my family."
This confirms that the woman involved was Govan, who has twins with Barnes. The couple was due to be married recently but the wedding was called off just before the event, although the couple said at the time they were continuing their relationship.
Govan is a cast member of VH1's "Basketball Wives."
Police came out to Barnes home in Sacramento after an incomplete 911 call. Police found injuries on both parties but determined that Barnes had been the aggressor and arrested him.
As we reported last night, Barnes had said that this was not as it appeared in a text to a local television reporter, Bryan May of News10:
"U know any domestic violence situation 9 outa 10 times the man gets arrested. That's the case here I was the victim but still got arrested. No matter what I say people are gonna think what they want…
We have no idea what happened in the Barnes household. Maybe nothing. However this points to a bigger societal issue — it is common for the female in a domestic violence situation to protect the man. It makes convictions on the charges challenging. It makes the pattern of violence harder to stop.
What exactly happened in the Barnes house remains a mystery. But you can be sure of one thing through all of this — the Lakers front office isn't happy.