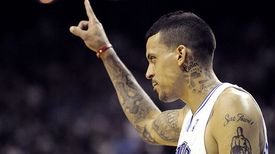 UPDATED 2:35 AM: Barnes responded to a text message from News10's Bryan May and said this:
"U know any domestic violence situation 9 outa 10 times the man gets
arrested. That's the case here I was the victim but still got arrested.
No matter what I say people are gonna think what they want…"
Barnes also sent out this tweet:
DON'T LET YOUR EARS WITNESS, WHAT YOUR EYES DIDN'T SEE!!!
1:55 AM: From The Sacramento Bee:
Los Angeles Lakers player Matt Barnes was arrested and booked into Sacramento County Main Jail on Wednesday night on a felony domestic violence charge.

Sacramento County Sheriff's spokesman Sgt. Tim Curran said deputies responded to an incomplete 911 call from the 8100 block of Sunset Avenue at about 4:15 p.m., where they encountered Barnes and a woman "who lived with him and with whom he had a dating relationship."

After speaking to Barnes and the woman, deputies determined that the two had been in a physical confrontation and Barnes had prevented the woman from talking to 911 operators. Curran said dispatchers heard the sound of a struggle in the background on the brief open line until it was disconnected.

Both parties had visible injuries but Barnes was determined to be the primary aggressor, Curran said.

Barnes is also charged with maliciously obstructing the use of a telephone line, Curran said. He posted a $50,000 bond and was released shortly before 9:40 p.m.

He is scheduled to appear in court Monday.
Obviously, this is a very serious charge. We'll keep you updated on this situation as it develops.