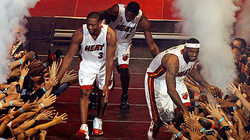 The "is this Miami trio really going to work?" questions are out there.
This has worked before in other places — from Boston and the Lakers in the 80s, Boston in the 1960s, even today's Celtics — because guys were willing to make the sacrifice on the court. There has to be give, three guys can't be the man.
Toronto's Jarrett Jack — a good friend of Chris Bosh — told Sekou Smith of NBA.com he wonders how it will all go down in Miami, can these three guys make those sacrifices, which are no small thing.
Yeah, I'm curious. The bottom line is, one person is going to have to be left out. And I'm not pointing fingers or anything. That's just real talk. It's very rare that you have three superstar guys in this league and everybody gets their fair share amount of touches and whatever. And I know they all "compromised" some things to play together in the first place. But it's one thing to say we're going to do it and something else to actually swallow that pill and be that third option. Going from a superstar to that third option, when you've been "the guy" on a team for four or five years of whatever … it's different. It's like when you go from college to the league and you're not that dude anymore and you have to take that step back. Some people can handle it and some people can't. Like I said, somebody is going to get squeezed out of the equation down there. And that's just how it is.
Jack also talks about Toronto and the challenges they face. This is city with a big basketball following hungry for a winner, and the franchise basically just had to hit the reset button.
I think [the fans will] follow our lead. If we come out there and play a tough brand of physical basketball night in and night out, win or lose, they'll respect us. To me, Toronto is a blue collar city. It reminds me of New York, Philly and those type of fans that are really passionate and rowdy. They definitely make their presence felt, if you're playing bad or well they'll let you know. So I think it's up to us. If we go out there and show every single night that we're hungry and just truly passionate about the game, they will respond to that. And honestly, that's what you love about them the most as a player.