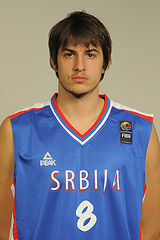 You ever heard of Nemanja Bjelica? Of course not, you have a life and a fantasy football team to obsess over. That's why teams hire European scouts, to go find guys who might fit in the NBA some day so you don't have to.
Bjelica was a guy who caught interest because he's 6'10" with a guard's ball handling skills. Sort of in the Lamar Odom/Kevin Durant mold, save for the fact he is not as explosive athletically can't shoot as well as those two. But a power forward with handles draws interest.
So the Timberwolves traded for him on draft day. And in Serbia's win over Spain Wednesday, Bjelica made his presence felt.
Bjelica had 14 points, 11 in the first quarter and a key three in the fourth quarter. He was 5 of 5 from the floor, 3 of 3 from deep. If he can shoot like that the Timberwolves will have something.
He will not be in the NBA until 2012 at the earliest, he just signed a deal with a top Spanish club, Caja Laboral (Tiago Splitter's team the last few years).
USA's international scouting guru Tony Ronzone told this to the Minneapolis Star Tribune about Bjelica:
He's not putting up big numbers, but this is intense competition. He's young [22], he needs to get stronger. But he's in a great situation: He's here in the Sweet 16 with Serbia, and he's going to a great team that won Spanish league for the next two seasons.
Just another guy to keep on the radar, he could be a real steal in a couple years.