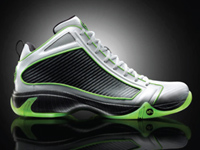 Seriously, $300 for a pair of basketball shoes?
That is the new high end of the market, set by Athletic Propulsion Labs for their new Concept 1 shoe. Why would you do that could basically buy two pairs of new Jordan Six Rings for the same price?
Because these shoes will help you jump higher. Because of science. Here's the official sales pitch from the company.
The technology itself features a unique device that serves as a "launch pad" housed inside a cavity at the front of the shoe, which compresses (The "Load" phase) and then releases (The "Launch" phase) as the athlete exerts force on the front of the foot….

In testing situations, athletes have experienced increases of several inches on their vertical leap wearing Athletic Propulsion Labs™ basketball shoes with the Load 'N Launch™ technology.
Adding inches to my vertical? Man, I could finally clear that phone book.
CNBC's sports business reporter Darren Rovell found this story, talked to company owners Ryan and Adam Goldston, and tested out the shoes. Now he gets why there is a buzz — if you were just a couple inches short of dunking a basketball, how much would you pay to instantly be able to do it? Exactly.
Rovell also knows what could make the shoes an instant hit.
Knowing I couldn't write this story without testing out the shoes, I had the Goldstons send me a pair. On Monday, I took my basketball hoop down to eight feet and dunked wearing my Nike basketball shoes. Then I tried on the Concept 1's. I didn't measure it, and it could have been psychological, but I did feel like I had better "ups."

So far, the buzz about the shoes has been confined mostly to the sneaker circles, but one thing can change that all: If the NBA decides to ban the shoes.