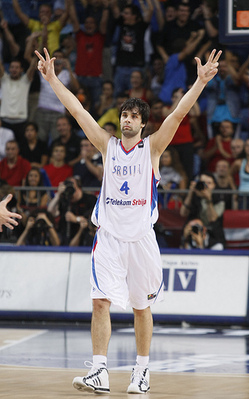 And it is looking more and more like the gold medal game of the World Championships will be the USA vs. Turkey.
Serbia 92, Spain 89: This was an upset — not a massive, Buster Douglas/Mike Tyson upset, but an upset. It was also the fair result, Serbia controlled most of this game, but a late Spain comeback tied it at 89-89 on a Marc Gasol dunk.
Then came The Shot.
Milos Teodosic went Kobe Bryant — he dribbled out the time on the clock, not passing to a teammate or really even considering it, then when it came time for his move he pulled up for the ridiculously long three. And drained it. With just 3.1 seconds left. Then Spain did what Spain seemed to do a lot of this tournament, some sloppy execution led to a turnover.
And like that, the co-favorites of the tournament are toast. This was a really fun game to watch, if you see the replay on NBA TV. Serbia and its offensive-system will advance to the semifinals to take on…
Turkey 95, Slovenia 68: Turkey continues to look like the second best team in this tournament. Or maybe the best — a USA/Turkey finals would be a barnburner. With the USA players in the most hostile environment any of them has ever seen.
Turkey took control of this one midway through the first quarter, were up 27-14 at that point and that pretty much was it. Turkey hit 10 of 17 from three, and Ersan Ilyasova scored 19 to lead the team.
If you like to compare numbers, Turkey beat Slovenia by 27, the USA did by 22 (99-77 in pool play). What does that really say? Not much, other than the USA and Turkey have both had little trouble with a common opponent able to reach the final eight of this event.
And that they may be on a collision course.