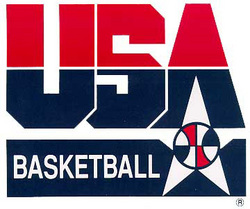 There was plenty of talk about the top American players skipping the World Championships — Kobe Bryant had his knee scoped, LeBron James had to work on taking his talents places, and other excuses piled up for Dwyane Wade, Chris Bosh, Carmelo Anthony, Dwight Howard and on down the list.
But this was not just an American phenomenon. Spain is without Pau Gasol (and they miss him), France is without Tony Parker and five other NBA guys, even the Russian team the USA takes on Thursday lacks Andrei Kirilenko and guard J.R. Holden. It is Holden that will really be missed, he more than any other guard could have stood up to the USA's pressure.
The World Championships may still be huge in some countries but in the United States this is a secondary tournament. It's about the Olympics. Not just the cultural prestige of an Olympic gold medal, but if you're trying to increase your marketability — your brand — then the Olympics are the place to be.
That leaves the USA with some choices in a couple years, hard ones. USA Basketball head honcho Jerry Colangelo admitted as much to FanHouse's Chris Tomasson.
"I think you would assume Durant is going to be on the team. That's one," Colangelo said of players off this summer's Team USA outfit marked for London.

There are 35 players in the pool now for 2012, with 22 having been on the 2008 Olympic team or on this team. There are some top players in the pool to have not participated in either event and some could be added, namely Clippers forward Blake Griffin.

"We'll always have a fluid roster," Colangelo said. "You're always going to have some turnover going forward because players need to look forward for that opportunity. It's not like with some of the countries that we play against, they'll have the same guys playing two or three Olympics in a row or World Championships. But that's not going to be the case with us. It just can't be. It's not realistic.


As Bethlehem Shoals noted elsewhere at FanHouse, this is not the structure Colangelo said he was bringing to USA Basketball. Remember you basically had to play in the 2007 qualifying tournament to be considered for the 2008 Olympic squad. He wanted to build continuity — just like those European teams — not to have a fluid roster.
But the key is he has gotten the biggest names back playing for the USA. In the end talent matters, and when the LeBrons and Kobes want to put on a jersey you welcome that with open arms.
Colangelo might not have built the structure he wanted, but he built the USA brand back up to where the nation's best want to play for it. That is a step in the right direction, and likely enough to keep us at the top of the world for a while.