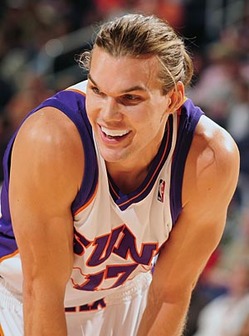 What do you want out of your role players? Hustle. Energy every night. Guys willing to do the little things to win. Guys who sacrifice themselves and have surprisingly solid games.
So why is Louis Amundson still on the market again?
He did all those things for the Suns last season, showing he can be part of a strong bench (one that was key to helping Phoenix reach the Western Conference finals). Yet he sits unsigned after a parade of names — Kwame Brown anyone — are already inked.
We said yesterday that the Hornets were considered the frontrunner for Amundson, but the Warriors apparently think they have a chance.
Amundson's agent, Mark Bartelstein, expressed his confusion it took this long NBA.com.
"Teams talk all the time about how they want guys that play hard, that have a great motor," Bartelstein said. "It's not until after they lose him that they realize they miss the guy that knocks balls loose to grab offensive rebounds and kick it out for open 3-pointers.

"Those guys are so valuable for winning basketball. Because he's not the most skilled guy in the world, teams can take that for granted. Players like Louis Amundson win you a lot of games. His numbers don't justify what he does. If you're not watching him play every night, you don't appreciate how good he is. If all you do is look up his stats, you have no idea the difference he makes in game."
It may well be about the money. There were rumors Amundson was asking for more than the average bench guy, but he is likely to end up in the $2 million a year range (the Warriors can offer $2.1).
But at that price, Amundson — a big man off the bench who brings it every night — is a steal. Someone needs to snatch this guy up.