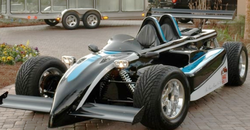 At least he was wearing a helmet…
Ron Artest was pulled over recently for driving an Eagle Roadster on the streets of Los Angeles, according to TMZ (which has a photo of the incident).
An Eagle Roadster is a customized, street legal, two-seater (inline) car designed to look like an open-wheel Indy Car (see the photo on the right). They can do up to 152 MPH and go 0 to 60 in 4.2 seconds, all powered by a Chrysler V6.
Police pulled over Artest because the registration on this one had expired — and it wasn't even Artest's, it belongs to a man in Tennessee.
Artest was polite and smiling throughout getting the citation, according to the report.
The good news was this was a cool, open-wheel Indy Car looking thing and not some NASCAR rip off. The world does not need more NASCAR.