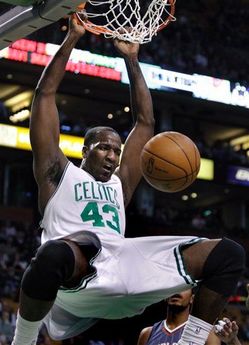 We're not going to see Kendrick Perkins on the basketball court until 2011, likely around the All-Star break. His knee injury in Game 6 of the NBA finals was serious.
Right now, for Perkins it's all about the rehab, that and thinking about what might be for him and the team this season. He sat down with SLAM and talked about all of it (it's a long and good interview, you should check it out).
Starting with the fun that is rehab.
It's going great, man. I'm going to rehab everyday. It's getting a whole lot better. I'm walking without crutches and a brace, so things are moving along. I'm not rushing anything, but things are moving at a great pace.

It's not as bad as everybody thinks. It's difficult, obviously, but it's not as bad as people think. If you mentally strong, you can get through it.
These playoffs is when Perkins and his on-court scowl seemed to be coming into their own, coming out of the shadows of the Big Three in Boston. Then there was the one bad landing on a rebound.
But Perkins is a guy who got where he is in the NBA — and into the NBA — based in large part on hard work. He is not, by NBA standards, a gifted athlete. He grinds it out. And like any good grinder, he's looking ahead at what he can do better next.
Well, I still wanna get better with my footwork, my speed, my quickness, my athleticism. You know, I'm not an athlete or nothing like that, but you know obviously you wanna get better at weakness that you have, whatever they may be. So if you always got a right-hand hook, you wanna get a left-hand hook. You know, so I'm trying to work on my left hand, doing everything left-handing. Driving left-handed. Doing everything pretty much left handed, because I want it to get just as good as my right hand.
Perkins also talked about the chemistry that makes the Celtics what they are, and how he fits in. How he is a guy not looking for more touches.
Nah, not really. That's not how our chemistry is. You've been in our locker room, you know how we role. There's only one goal; so at times you want to get better as an individual, but then there's times that you'll be in situations you've never been in before. Like, there's not too many times where you could be on a team that has a chance to win the title. So why not take advantage of it?…
So what about this year's Celtics? It's not the new players that will carry Boston over the top so much as the Celtics doing what they do, just a little better.
Well, I mean, we didn't do nothing spectacular. We got Shaq, we got Delonte [West], we got J.O. [Jermaine O'Neal]. But it ain't like we signed no young Dwight Howards or anything like that. So if anything we just got older. But we still got a lot of talent. So we got older but we got a lot of talent and a lot of experience, so that's gonna help us a lot. And a lot of guys with chips on their shoulder, so that's what's gonna really help.
If there is one Celtic who plays with a chip on his shoulder… well, that is probably KG. But Perk is right there next to him.