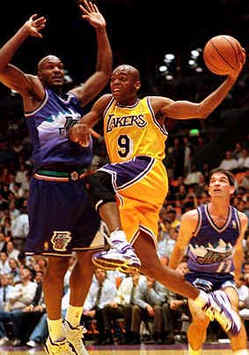 Nick the Quick is a coach.
The Atlanta Hawks tweeted out the information Wednesday, that Nick Van Exel was being brought in as a Player Development Instructor.
He's got cred — no other Hawk had his name dropped in a Jay-Z song. He left an impression because he played with style and swagger. He had the smooth lefty shot and sweet handles.
Probably don't want to teach that 18-foot free throw, though. (Van Exel stood a couple feet behind the line on free throws, and as he was a career 79.4 percent free throw shooter nobody stopped him.)
I like the idea of injecting a little Nick Van Exel in Jeff Teague's game. That would be huge for the Hawks. Bottom line, just good to see him back in the league.