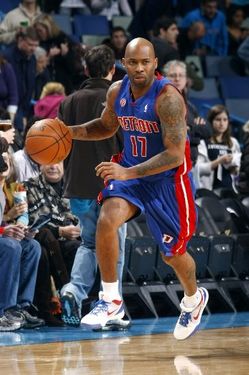 Chucky Atkins has had 11 solid years in the NBA, played in some big games early in his career, drained 934 threes and pocketed a little over $34 million. A career most guys would envy.
But Atkins doesn't want it to end, so he is in the Valley of the Sun, according to Paul Coro of the Arizona Republic.
Veteran point guard Chucky Atkins and Valley resident Steven Hunter, an ex-Suns big man, joined workouts Tuesday in hopes of getting to the Suns' training camp that starts Sept. 28.

Atkins may very well get a camp invite, but a contract for the season seems unlikely. The Suns have that Steve Nash guy at the point, and want to get Goran Dragic more minutes behind him. Not sure they are going to carry a third point on the roster. But maybe he gets in to camp, reports are good and another team decides they need a vet guard off the bench and look his way. Stranger things have happened.
But more likely, Atkins will have a hard time finding an NBA roster spot.