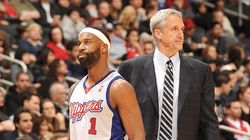 When Baron Davis is good, he is very good. Just ask the Mavericks. When he is bad… well there goes another missed pull up three 10 seconds into the shot clock.
There is a lot of potential in Clipper land this season — Blake Griffin is back and will play. Eric Gordon is showing what he can do on the international stage right now, and he will come in even more confident. Chris Kaman will be solid at center, rookies Al-Farouq Aminu and Eric Bledsoe will contribute. Randy Foye and Ryan Gomes were good pickups.
And it still is all about Davis. He is the guy with the ball in his hands. The guy that when committed and mentally focused can have this squad looking like a playoff team. The guy who also can take them right out of so many games.
Vinny Del Negro's top job has to be to find what gets Davis focused in a way his Clipper predecessors have not. But part of it falls on Davis, as Breene Murphy explains at Clipper Blog. And he sees reason for hope.
Baron must understand that he will not have the career that he set out to have, that he had the potential to have. I'm sure he imagined that by the time he was 31-years old, he would have more than two All-Star appearances and one Third Team All-NBA award, as well as more championships and playoff appearances. Maybe it's Steve Lavin's underachieving sheen that rubbed off on him in his lone year at UCLA. However, I think now he's smart enough to know that he can re-invent himself….

Baron knows this. These positives [the quality around him] must be re-energizing him. But what makes me most hopeful is his trip to Africa, an experience he felt so strongly about that he noted it earlier this summer in a letter to all free agents. What I hope he gets, and he has professed to understand, is the perspective of it all. I'm sure in his travels through extreme poverty, he was able to see kids laughing amongst the bleakness of their life and people treating each other with the kindness and sincerity that should be merited to anyone, regardless of accomplishment. I hope that Baron comes to realize that the fictive career he hasn't had shouldn't be the barometer of how he will act and work. That was apparent in his letter to the free agents. And that headiness is what the team will need from its steward, both in age and position.
I'm a tougher sell here. I want to believe, because when Baron is on he is one of my favorite players to watch. Has been since UCLA. He can be so dynamic. But so often he just coasts.
I want to believe that things will be different this year — if you're a Clippers fan you have to have a sense of ingrained optimism in you that I don't share. But I just think the first setback, Davis will revert to his coasting default. Maybe not. Del Negro got his Bulls teams to play hard for him. Maybe Davis has matured. Maybe his teammates will not let him go into his shell.
But this is the Clippers, I just can't buy based on optimism. I need to see, and see over an extended period. But we'll be watching.
\