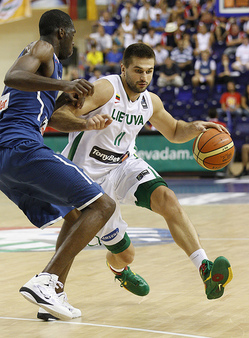 If you weren't watching today — you know, because you have a job and limited love for Lithuanian basketball — you missed the Linas Kleiza show.
Kleiza dropped 30 points on China going 14 for 22 from the floor, and he did it all without taking a three. With the game close midway through the fourth quarter Kleiza took over and dropped 10 straight on China, his own personal little 10-3 run, and that decided the game.
Kleiza had been a solid part of the Denver bench a couple years ago, but left for a season to play in Greece for Olympiakos (along side Josh Childress, who returns to the Suns this season).
Now he comes back to the NBA with the Euro-styled Toronto Raptors and with a more rounded game, he said in an interview run on Canada's Slam sports. Oh, and there are subtle digs at Denver in there.
"I just felt it was a good move by me to improve my career and improve as a player," Kleiza said of the move to Greece. "I had a big role on a very big team, a very good team. That kind of helped improve all my skills and allow me to show what I wasn't able to do in Denver.

"In Denver I was a role player and I did it pretty good," he said of his spot on the roster backing up superstar Carmelo Anthony. "But coming back here and showing I could do a lot more things I'm not just that player that I was in Denver. That's why I want to go back to Toronto and prove myself all over again. Show people that I was a better player than I was in Denver."
In post-Bosh Denver, the role is there to be carved out as a top scorer, as a go to guy. If he can create it. Leandro Barbosa will be directing the offense and there will be Bargnani and DeMar DeRozan will be getting theirs, too. But Kleiza's inside out game could fit well with a team that will be up-tempo and with motion in the offense.
It's hard to predict what Toronto will look like this season, but an improved Kleiza could find himself in the role he felt blocked from getting in Denver.