A handful of things we know about this NBA season. The Lakers will be good. The Celtics will lose three straight and some columnist in Boston will write them off seemingly forgetting last season. Cleveland will struggle.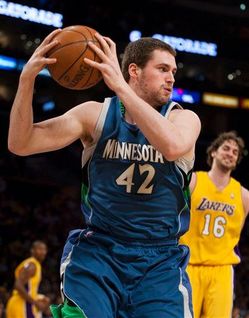 But it is the surprises that make the season fun. The unexpected. Like the guys who surprise the public and have a breakout year.
Sporting News' Sean Deveny talked to an NBA scout about who was poised for a breakout season and got five names:
Jrue Holiday of the Sixers, Darren Collison of the Pacers, Kevin Love of the Timberwolves, DJ Augustin of the Bobcats, and JJ Hickson of the Cavaliers.
Some of those seem a great fit. We here at PBT are fully on board with the Love train — run the dang triangle this season like you said you would Rambis. Then get Love the ball in the high post and watch the offense sing. Let the man play.
Collison we think is a great fit in Indiana, he is perfect for an up-tempo offense. The scout has concerns because the Indiana offense is a bit unorthodox, but we see a very good fit for a young player. Jrue Holiday gets Evan Turner as his backcourt mate and should take the next steps. JJ Hickson deserved a lot more touches last season, this season he'll get them and look good doing it.
DJ Augustin? That is a little tougher to see. He has ball-handling skills and can knock down the long ball, for sure. But Larry Brown can be hard on point guards and especially ones that break out of the offense to over-penetrate. He drives but lacks the patience of a Steve Nash to see what is developing, he'll even leave his feet having not committed to the shot or the pass. The offense lacked flow with him, and Brown let him hear it, not helping Augustin's confidence.
Maybe I'm wrong, because Augustin can score and he could start really using that skill. But he's not a PG we see with a breakout season — his numbers will go up because his minutes go up, but is he the guy who can really lead the Bobcats back to the playoffs? Not sold on that here.