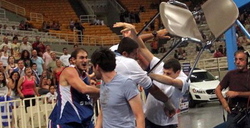 Nenad Krstic did the crime so he was willing to do the time. And he'd do it again (well, maybe not chair part).
The Oklahoma City Center is not an in-your-face kind of guy, but when Greece and Serbia ended up in a YouTube favorite brawl, he was the most aggressive Serbian player. He jumped in to help a teammate and pretty soon had the massive center Sofoklis Schortsanitis coming after him.
Hoopshype talked with Krstic in Turkey, where he is back with his team heading toward a big showdown with Spain, and asked him if he thought the suspension was fair.
I deserved it. But I didn't deserve the talk in the newspaper. I'm not one person to get in fights on the court, but I was just trying to protect my teammates.

HH: Like you said, you don't look like a guy that's going to get involved in fights. What happened to you there?

NK: Nothing. I think everybody who knows me knows that I'm going to have their back if there is a fight or a problem or anything like that. I always have my teammates' backs. So there was a fight, I saw my teammate lying down on the court and I tried to help. And they attacked me and whoever attacks me, I'm going to attack him.
Kevin Durant had to read that and smile. The Thunder will not be sneaking up on anybody this season, other teams will push back. It's good to know somebody has your back. And plus, NBA courtside seats are way too heavy to pick up and fling around easily.