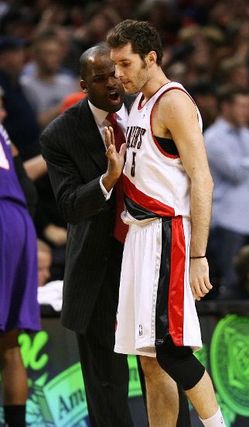 Very vague trade speculation continue to float around Rudy Fernandez. The Bulls have some interest. The Knicks have some interest but they and Portland are not talking.  Nothing seems to be moving on that front.
Basically, despite Rudy Fernandez throwing a tantrum and threats of a holdout by his agent, he is still a Trail Blazer. And when FanHouse asked Blazers coach Nate McMillan about it, he said he plans for Fernandez at training camp, saying "that's my player."
"He's a great player," McMillan said. "He's a good player. A talented player. Very talented."

Asked further about the subject and McMillan said, "He is in my notes for training camp. All right."
Fernandez is in a tough spot now. Despite stamping his feet and throwing up his hands and plenty of whining, he now has to either swallow his pride and go to camp, or hold out and both look bad and not get paid.
Blazers GM Rich Cho may eventually move Fernandez, but it will be done on Cho's schedule. When he feels he is getting enough in return. And if this sends a message to other agents about dealing with Cho, then all the better for the Blazers.