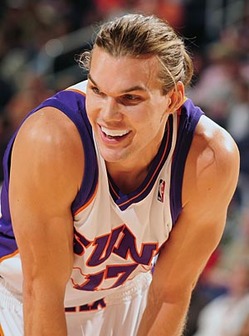 Remember three weeks ago when Lou Amundson was going to sign with a team in just a few days? Yup, that's moving about as fast as Los Angeles traffic.
The Hornets are the frontrunners, according to Alan Hahn at Newsday, although the Pacers and Warriors may still be in the mix. Other teams also may be in the mix. He clearly wants more money than a nice backup big who can rebound, hustle, and defend can get right now. He has value, but the lucrative part of that market has moved on. A lot of lesser players are accepting lesser deals now.
According to Hahn a favorite of some Knicks fans — Earl Barron — is in a holding pattern because of Amundson.
Barron will not be back with the Knicks. New York signed both Ronny Turiaf and Timofey Mozgov, and of course who could forget Eddie Curry is still on the roster. There is no need for another center. Mozgov is the Knicks Barron for a new generation.
Barron played well enough in seven games to win over Knicks fans — and get himself another shot somewhere. But right now teams that want a backup big are looking at Amundson. Once he is off the market, Barron stands a chance of getting a gig.
Someone should give the guy a chance. If you play well, you should get your chance. Right? But instead, we wait.