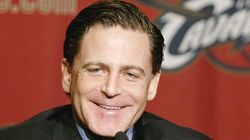 Dan Gilbert is putting a much better spin on LeBron James leaving now.
Not the right one, but at least one that sounds reasonable and lacks Comic Sans font.
In a story about rebuilding the Cavaliers at the News-Herald, here is what Gilbert said about the effort.
"We weren't as focused on the long term (before James left)," he said. "We'll build the right way. It's absolutely refreshing and challenging and we're all looking forward to building the Cleveland Cavaliers into a premier team.

"We didn't achieve the ultimate goal (with James). It can't be a one-person show. We have to have a team approach and a team effort to make it happen."
It sounds good, but he's wrong.
He's right that you need to build a team. But he's wrong about this — you need a superstar or two. Look at the NBA champions in the last 30 years: The Lakers had Magic and Kareem, then Kobe with Shaq and Gasol; The Celtics had Larry Bird with McHale and Parish, now KG as part of the big three; the Bulls had Jordan and Pippen; the Spurs had Tim Duncan; the Rockets had Hakeem the Dream; the Heat had Dwyane Wade and Shaq.
You get the idea? You need a superstar. The only ream really not to have one was the 2004 Pistons and they were a defensive juggernaut with some quality offensive players. And they are the exception.
Now, you have to do a better job putting quality players that fit the system around your superstar — that is where the Cavaliers failed. What was the system? They had a defensive minded coach in Mike Brown then gave him defensively limited players like Shaq. Gilbert is right that there was a focus on the short term, but there had to be because the goal was to win now and keep LeBron.
So go ahead and think long term, Gilbert. But you still need some superstars. Sorry, it's just how you really win at the top level of basketball.