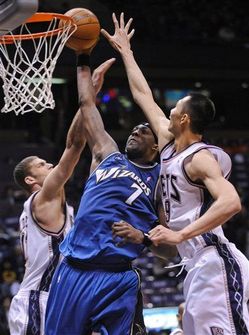 Years of potential exploded into a couple very productive months last season for Andray Blatche. Throw in rookie top pick John Wall and an offense that will get out and run, and you may have something fun and pretty good in Washington next season.
If Blatche is healthy. He had foot surgery in June and was expected to be not doing much for three months.
But according to Michael Lee at the Washington Post, Blatche said he will be ready to go when camp opens at the end of the month. Blatche has been riding the bike and working out on the elliptical, but has not been cleared to play basketball yet. However he should be back by the start of training camp.
There he will be met by journeyman center Sean Marks, who has been invited to camp, according to the same Post report. Marks is a 10-year NBA veteran who has never made a big splash, never averaged more than 3 points per game. He would have a make-good deal and have to earn his way on to the team.
Rounding out the Wizards camp offers are Cartier Martin and maybe Lester Hudson.