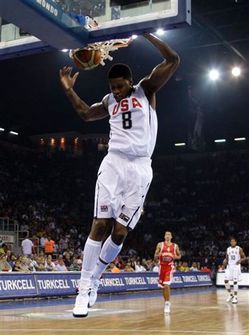 For one quarter, the USA looked like the focused, efficient, powerful team we expect them to be.
And that's all they needed on Labor Day, one quarter of labor. The USA was up 20 in the first quarter, knocked down 18 three pointers for the game and defeated an outmatched Angola team 121-66 in the round of 16 at the FIBA World Championships.
It was that easy. It won't be that easy from here on out.
Angola played a sagging style of man-to-man defense that constantly left USA shooters open — a strategy the USA will see variations of going forward against zone defenses. Chauncey Billups knocked down a three to start the game but the USA missed their next four jumpers. Angola got back in transition defense at first and it was close for almost three minutes.
Then Kevin Durant attacked the rim a couple times, things opened up and the shots started to fall. The USA shot 47 percent from three for the game, which has to give pause to those teams which would have Team USA shoot jumpers. It may still be the best strategy, but Team USA has guys who can knock down shots.
The USA also started getting the turnovers they need and running midway through the first and they had 14 first quarter fast break points. Really the game was a runaway from early on. Billups led the USA with 19 points including 5 of 7 from beyond the arc, followed by Durant, Rudy Gay and Eric Gordon (5 of 6 from deep) all with 17. Derrick Rose also showcased that jumper he has been working on this summer going 3 of 4 from three.
That Gay did so well is a good sign after he missed a practice with a strained groin. He is clearly back and ready to run.
We could nitpick that the USA's defensive intensity let up at points, that some bad habits from previous games crept back in. But why? The USA looked good when they had to and if they got a little sloppy at times in a 55 point win I can live with that.
But the times the USA can play one quarter and win are over. Things are about to get a lot tougher.
Next up for USA is winner of the Russian/New Zealand game. So most likely Russia, which brings a much longer front line — 6'11" Sasha Kaun formerly of Kansas and newly-signed Knick center Timofey Mozgov — to the party. Russia also plays a much tougher match-up zone that may give the USA some issues and fewer wide-open looks than they got against Angola.
If the USA gets past Russia on Thursday, they will likely play Argentina next, followed by either Spain or Turkey in the gold medal game.
The easy romps are over for the USA. They are going to have to earn their wins from here on out. If Team USA shoots like they did against Angola and play with the intensity they showed in the first quarter, they should be just fine.