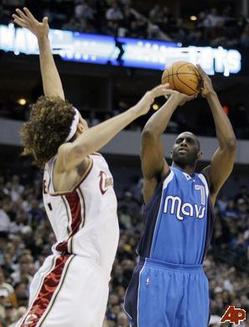 Tim Thomas only played in 18 games for Dallas last seasons. When he did he gave them some solid veteran play off the bench, and 7.5 points in just under 16 minutes.
For the first part of the year, Thomas was recovering from knee surgery. But he talked with NBA.com's Alex Garcia about the second half, when Thomas needed time to take care of his family and ill wife.
"It was about taking care of my wife, but I watched basketball as much as I could and I always kept up with what Dallas was doing," he said. "I reached out to everybody right before the playoffs and wished everybody well.

"Of course I watched the playoff games and thought about situations where I could have helped. It was tough to know that the guys were going to war and I wasn't there to help, but at the same time everybody was reaching out with their prayers for my wife."
Thomas said he got an outpouring of support from throughout the Mavericks organization. So while he could have looked around, Thomas said he wanted to come back to the Mavs, to repay them for the understanding and care they had shown him.
"I wanted to come back and help my team, but things happened in the household," he said. "The team allowed me to go and to try to work things out. When things started going downhill, they allowed me to stay home and take care of what's most important — your family. I really appreciate that from them. I'm happy that everything worked out as far as my wife's health."
This season will be the 14th in the NBA for the 33-year-old.