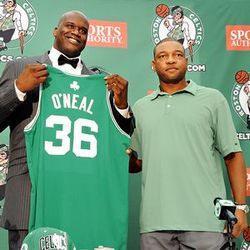 There are plenty of people that think Shaquille O'Neal is just play cops and robbers like a big kid, that he's not serious.
He's actually very serious. The latest example: His interview with the New Orleans Times-Picayune about his post-basketball plans:
I'm either going to be the sheriff in Baton Rouge, Miami or Los Angeles. One of those counties is going to have to welcome me in.
But first, there's the matter of another couple NBA seasons.
When looking at his options this summer Shaq and his people were pushing for a deal above the mid-level exception. He says they got those offers, but in the end it was really being seen. Oh, and winning, too.
Atlanta was cool, but they don't have a lot of national television games. But Boston, with Kevin Garnett, Ray Allen, Paul Pierce, I said we can do it. A lot of people said I only got the league minimum salary, but that's all right. I'm the luckiest guy in the world. I've had four max contracts in one lifetime, I don't care about that little million. Did I want $10 million? I'm always going to put the number high. I could have gotten $8 million from Atlanta and Detroit, but it wasn't about that. It was about being somewhere and being seen and winning.
Shaq could be a good fit in Boston, but that will ultimately be determined by his play on the defensive end of the floor. Either way, he will get seen, that's for sure.