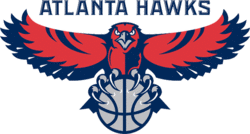 The Atlanta Hawks defense has long been notable, even if it hasn't been notably effective. Under Mike Woodson, the Hawks somewhat famously employed quick, versatile lineups of athletic players capable of switching on most every screen. It was a reasonable way to make sense of the Atlanta roster at the time, which was (and is) filled with unconventional athletic talents.
With Larry Drew, a former Woodson assistant, stepping in as the new head coach, it's been a bit of an unknown exactly how much of Woodson's offensive and defensive systems will remain. However, Michael Cunningham of the Atlanta Journal Constitution did some poking around, and it seems that the Hawks may be shifting to a more conventional defensive scheme in the coming season under Drew:
Does [Larry Drew] think he has the horses to play good, tough, straight-up D? "I think we have the personnel to do it," he said. "That's why I use the term 'accountability.'"

One way to annoy NBA players is to talk to them about defensive "stoppers." So many times I've heard guys, especially guards and wings, scoff at the notion. There is no such thing, they say, because there are too many good offensive players and the hand-check rules make it nearly impossible to stop those kind of guys straight up. Point taken, and L.D. said it's one he recognizes. That's why he said he there will be times when switching and other help-type schemes will be necessary.

"I think you have to make a decision on how you want to guard certain people," he said. "Certainly game-by-game, adjustments will be made defensively. But you go into the game with the mindset of guarding your own people. I think we are deep enough we can get that kind of defense out of our guys."
Drew doesn't explicitly say that he'll abandon the Hawks' previous reliance on switching, but read the code words. 'Accountability.' 'Guarding your own people.' Whether his defensive faith in Jamal Crawford, Mike Bibby, Joe Johnson, and Marvin Williams is misplaced or not, Drew seems resolved to let the Hawks' defensive merits stand without switching on every screen.
As training camp approaches, we should learn more and more about Larry Drew's coaching style and intentions with the Hawks. Until then, we're left to decipher code, and this is about as telling as that code gets.