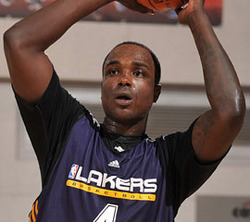 Derrick Caracter showed a lot of promise for the Lakers playing at Summer League, enough so that they gave their second round pick a contract. Clearly the Lakers are about the now, in the middle of a title window, but they will let Caracter develop at the end of the bench.
If he can lose some weight.
Conditioning — and a commitment to it — was the question about Caracter coming into the draft. Skills and body he had, but what about the work ethic and desire? The Lakers came up with a clever way to push him, as reported by Sham Sports:
Caracter has a $473,000 contract this year with $250,000 guaranteed. If Caracter weighs 275 pounds or less on Sept. 10, the contract becomes fully guaranteed.
Caracter, more than the other Lakers second round pick Devin Ebanks, could get minutes this season. The Lakers want to get their frontcourt starters and Caracter could step into the Josh Powell role with the Lakers — getting not only garbage time but also some real minutes at times.
Caracter showed the ability to do that in Summer League, at one point holding his own for three quarters with No. 5 pick DeMarcus Cousins. He can board, there is some touch around the rim you can see an NBA body under the layers of Caracter, he just has to get it and then get used to playing with it. He's a bit raw but the tools are there.
Along those same lines, the Lakers signed Theo Ratliff into the D.J. Mbenga roster spot, but look for the Lakers to use Ratliff more than just in garbage time, resting Bynum and Pau Gasol for stretches.