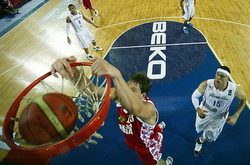 The description from scouts when the Knicks signed Russian Timofey Mozgov was "potential."
He has shown a little more than that as part of a pretty good Russian team at the World Championships, giving Knicks fans another reason for hope.
He is averaging 11.8 points per game on 65 percent shooting, and he dropped 18 on a good Greece squad in a Russian win. He sets good screens as well, something that Raymond Felton and the rest of the Knicks guard core has to love.
Russian coach David Blatt told the New York Times recently that he thinks the pick-and-roll is where Mozgov will shine.
"I think it's going to be easier for him in the N.B.A. than in Europe," Blatt said. "He's not going to have to be a lead player, and they'll probably put him in a small area of the game where he has to pick and cut or run the break hard, which he does extremely well.

"Still, it's going to be a big adjustment for Timofey."
An adjustment because the leap from the Russian leagues to the NBA is pretty steep. And even in Russia he was playing a lot, less than 15 minutes a game.
Which brings us back to potential. He's 7'1″ and athletic, and for those reasons you have to give him a look. Or, if you're the Knicks, a three-year, $10 million deal. But that could be a very good value if the potential pans out.
If Russia defeats France Monday (as it should) the USA players will get their first look at him when the USA and Russia face each other Thursday (assuming the USA beats Angola, which is a pretty safe assumption). They likely will not see a lot of him to start the NBA season Wilson said, but they could if his raw game can get some refinement over the year, Knicks director of international scouting Kevin Wilson.
"The best thing is if he could progress from a 5-minute guy to a 15-minute guy. If he can warrant being on the floor from 15 to 18 minutes, I think that would be a great first season for him."