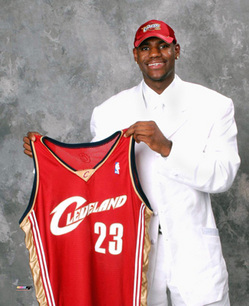 The homeless in Miami don't want your LeBron James gear.
Well, they may want it. We don't know. We do know that advocates for the homeless in Miami have been reticent to accept free LeBron James clothing.
Remember after LeBron James' decision there were LeBron jerseys being burned in the streets of Cleveland. So some thoughtful Clevelanders said "hey, let's collect this stuff and give it to the homeless in Miami." Which seemed to make a lot of sense.
Except the homeless advocates in Miami are refusing the stuff, according to the Broward Palm Beach New Times (via The Sporting News).
"It's on hold right now," says Rita Clark of the Miami Coalition for the Homeless. "There's a lot of politics around this."

The coalition had been in talks with the Cleveland do-gooders but ran into some resistance here in South Florida. Apparently, a marketing plan based on the concept of Here — take a bunch of stuff we hate! wasn't particularly appealing. Clark says she heard that Miami Mayor Tomás Regalado was opposed to the donation plan.

"It seemed very well-intentioned, but it's not gonna happen right away," Clark says. "I'm trying to help them be better-received here in Miami."
Insert your own "apparently beggars can be choosers" joke here.