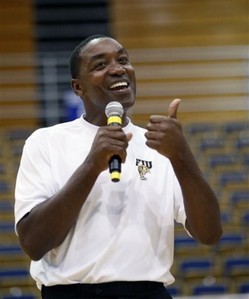 Like all of New York it seems, Isiah Thomas has been hanging out in Queens the last week or so. The US Open is in town and Roger Federer is putting on a show. (So did Andy Roddick, but that's another story all together.)
NBA writer Marc Berman of the New York Post approached Thomas and tried to get him to talk about his failed effort to return to the Knicks, but Thomas said nothing of real interest there.
What he did say is that other NBA legeds — such as Magic Johnson, Larry Bird and Michael Jordan — were wrong to slap LeBron around for his choice.
"I strongly disagree with their comments," Thomas said. "[Magic] had a great team. They said they wouldn't have left but look who they were playing with. Those teams were stacked."
LeBron had the right to choose… but he should have chosen New York. Right Isiah?
"I think — and I honestly believe this — it would've been interesting to see if he could have [won a title with the Knicks]," Thomas said outside Arthur Ashe Stadium. "The curiosity factor, the whole world would've been drawn to watch and see if he could do it. The whole LeBron Knick thing would've piqued everyone's curiosity.

"We wanted him to come to New York, but I think he'll do well in Miami. They got a great team. I think everybody will be watching to see if they can put it together and win."
Hate to tell you this Isiah, but the whole world is watching to see if he'll do it in Miami.