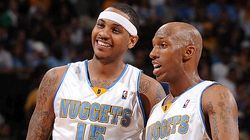 It may be futile. If you believe the off the record rumblings coming out of Carmelo Anthony's camp he is all but gone from Denver.
But the Denver Nuggets are not giving up hope. New GM Masai Ujiri wants to sit down and talk with him. And when he gets back from the World Championships, Chauncey Billups wants to talk with him. That's what Bullups told FanHouse.
"Everybody knows that I want Melo to be a Nugget, and I would love for me to be a Nugget for the rest of my career and finish with him," the Team USA captain said in an interview Saturday with FanHouse. "When I get back (from Turkey), I'm going to try to get back into the situation and hopefully keep Melo back in Denver."
Not sure what good that will do. No doubt  Melo respects and listens to Billups. But the question becomes is his mind already made up? If it is, if he is not going to sign that extension, what Billups says will not matter. If Melo has made up his mind Denver has to move him. Maybe not before the season, maybe much closer to the February trade deadline, but they need to move him.