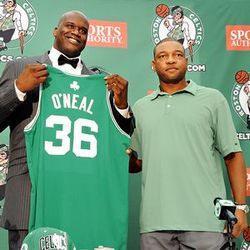 The only people to crash my wedding were relatives who didn't get an invite for a reason, but it's a celebration so you welcome everyone.
Kristen and Wes Schifone have a way, way better story. One they told to NESN in Boston.
Shaquille O'Neal wandered into their wedding at the Four Seasons, underdressed and not really fitting in. But it's a celebration so you welcome everyone. And Shaq hung out and had some fun.
"Considering it was someone of his stature, he was a total gentleman and just acted like one of the guys," the groom said from his Hawaiian honeymoon. "He accepted everyone's photo request and even remembered our names the next day and asked that we come down for a photo shoot with him for the [Boston] Globe."
The fans in Boston love him right now, he's a great personality to have in the city. We'll see how much they love him after some missed defensive rotations, but for now everybody loves him.