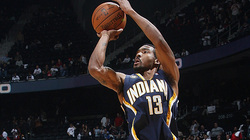 Luther Head was in Indiana last year, but the combo guard couldn't really get a lot of run on a team that wanted to run.
Then it looked like the Hornets were going to take him, until Jeff Bower got the boot as GM the new regime went with the old "he failed the physical" line so they could pull the contract out on Head.
Now he is headed to the Kings camp on a non-guaranteed contract, according to a tweet from Adrian Wojnarowski at Yahoo.
Tyrke Evans and Beno Udrih will start in the Kings backcourt, but behind them there are minutes to be had. Head can provide some scoring punch in a combo-guard role — not terribly efficient scoring, but he can put up some points for you. You're not going to get a lot of defense either. Which is why he's available at the end of September.
Still, this could be a reasonable fit for both teams for a season.