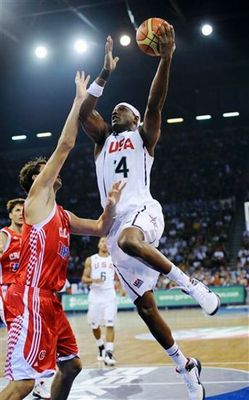 I joke that the only way to make Lakers fans happy is to win two championships a year.
Lamar Odom is trying to do just that.
Odom is the starting center for USA Basketball (even if he shouldn't be) as it heads into the knockout phase of the World Championships. Odom told Broderick Turner of the Los Angeles Times he is relishing this.
"The thought of being a world champion twice in one year is cool, you know?" Odom said in a telephone interview. "I could brag to Kobe [Bryant] and tell him this is something he doesn't got."

Odom paused before letting out a booming laugh…

"But he's got a lot of stuff I don't," Odom said, laughing again. "He's got MVPs, helicopters."
That is pretty much Odom's sense of humor. He is actually one of the funnier guys in the league, the guy you most would want to have a beer with on the Lakers. That's when the microphones aren't in his face. When they are he can turn on the Bull Durham Quote Machine and spout variants of all the standards. Credit to Turner for getting an interview with Odom where that guard is down.
Odom is a captain on Team USA. A veteran presence a young team could need. And while his play has not been spectacular so far, as the stakes go up you can count on a couple big games. He will have some game where his prodigious talents are on full display, and we will all marvel.
And that may be enough to get Odom his two titles in one year. Which is a pretty amazing feat.