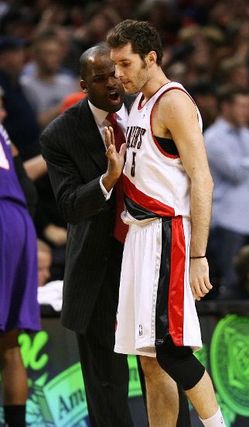 Note to agents: Public pressure isn't going to work on Rich Cho.
Rudy Fernandez wants out of Portland, and both he and his agent Andy Miller made it very clear and very public that was the case. That started before but picked up steam after Cho was brought in to make the basketball decisions in Portland.
Cho hasn't bowed to the pressure. In fact, it may have made him more resolved.  He's unhappy with Miller's public moves and is not going to help Fernandez out just because an agent is complaining to the media. Cho has set the market for Fernandez at least a first-round pick, although he may want more than that.
The Knicks still want Fernandez, according to Alan Hahn at Newsday, but they don't have a first round pick to trade until 2014. And as Fernandez would love to come to New York, Portland now doesn't want to send him there, Hahn's sources suggest.
The have been rumors, picked up by Frank Isola of the New York Daily News, that a three-way deal sending Fernandez to New York, Anthony Randolph from NY to Indiana, and Indy's first round pick going to Portland, was shot down by the Knicks Donnie Walsh. Apparently Randolph was too high a price.
Hahn suggests that Chicago makes more sense as they have Charlotte's first rounder for next season (protected).
The point is that Cho has options, and he has a willingness to be patient as he's not looking to help Fernandez. Which is why you may not want to try the public pressure route on Portland right now.