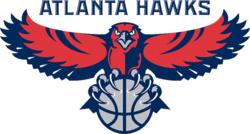 It was Al Horford who sad that if the Atlanta Hawks were really serious about contending, they would go big and get him some help in the paint.
Didn't happen.
So now what did Horford tell the Atlanta Journal Constitution about his situation?
"I am going to war with who I've got," Al said
Well, what's he going to say? Jason Collins and Zaza Petulia are your back up centers, along with Brad Miller. That's not a lot of help, not a big impact.
In a summer where it seems everyone in the East swung for the fences, the Hawks made their splash bringing back Joe Johnson. Nobody has really jumped on the Hawks bandwagon with their off-season moves, the Hawks are counting on improvement from the players thieve got. With the young Horford they will get it, but the rest of the guys….
Frankly, they are going to have to go to war with what they have.