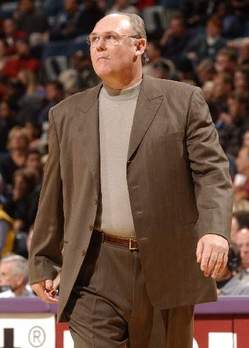 This may be the best news we've heard all summer.
From the Denver Post comes the official word from coach George Karl.
"It's official," George Karl said Thursday just before taking off for a long Labor Day weekend with family. "I've been cleared to go for it. My PET scan came back great."
Karl will be back on the Nuggets' bench come the fall. That had been expected, even by Karl, as reports on his recovery had been good all summer. But there needed to be the final, official word. Now it's here.
As anyone who has dealt with cancer in their family can tell you, the road is not over for Karl, who has fought off cancer twice now. There will be a lot more tests and monitoring.
"In three months, I'm going to have another PET scan," he said. "I'll probably have three or four more PET scans in the next year. And then the second year it won't be that many, it might be only two, but you've still got to go through them.
Not everything is right in Karl's world, however. This was throat cancer he was fighting, so the chemotherapy and treatments were aimed there. That affected his ability to eat and drink severely, he's still on soup and cottage cheese and other softer foods.
And then there is the other thing it took away.
"I've had a beer and it tasted awful," he said. "It tasted so bad that I actually had to ask, 'Are you sure the beer is good?' It tasted like I was drinking Alka-Seltzer. So that was disappointing. I'm going to wait a little longer, because the taste of beer is really important to me. I want that one to get back.
Damn cancer.